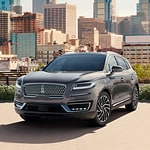 With advanced technology, the automotive industry never stops making improvements. The Lincoln is one of the most popular automobiles on the market, and it is constantly evolving to meet customer demands. Our vehicles at Advantage Lincoln feature state-of-the-art technology, which set us apart from other car dealers. The new Lincoln Nautilus comes with a long list of technology features, such as:
-Blindspot detection: This feature alerts the driver of any vehicles in their blind spot.
-Adaptive cruise control: This feature helps drivers maintain a safe distance between themselves and the vehicle ahead of them.
-Collision warning: This system warns you when there is an obstacle or car in front of you so that way you can adjust your speed to avoid a collision.
-Lincoln CoPilot360: This system helps drivers get from point A to B with the touch of a button. It includes lane departure warning, speed limit indicator and traffic sign recognition technology.
-Sync infotainment system: The Lincoln Nautilus is equipped with an advanced voice-activated connectivity feature that allows you to connect your smartphone.