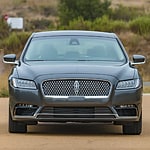 At Advantage Lincoln, the Lincoln Continental still sets the bar for luxury vehicles. Each year brings new technology and performance features that keep the Continental at the top of its class. We find it very impressive that this luxury car is able to blend power and function.
Dynamic Torque Vectoring is something you'll only find on Lincoln vehicles. This feature is able to refine the power of the Lincoln by providing better control when cornering. The result of the feature is a smoother ride. The Lincoln Continental also has Adaptive Cruise Control that makes it much easier to deal with traffic. Lincoln knows that these types of performance features are what impress drivers.
We want to invite you down to our dealership here in Fremont, OH for a test drive. Come and see all the performance features of the Lincoln Continental. Our team can also discuss financing and other questions you may have.