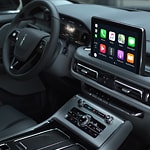 Finding a vehicle that combines luxury and performance can be difficult to achieve. Many luxury cars offer the luxurious look and feel in a classy mold while lacking the strength and performance you may need in a vehicle. The Lincoln Aviator is made with both of your needs in mind, combining that luxury appearance with a performance ready car.
The Lincoln Aviator is a three-row vehicle with the ability to seat up to seven in its roomy and captivating interior. Lincoln Aviators are designed with Lincoln Drive Modes, different drive modes to fit whatever driving mood you're in. Aside from various drive modes, you can also change suspension settings, steering, shift points and ride heights for a ride that is right for you.
The Lincoln Aviator also supports all-wheel drive, an essential in maximum performance vehicles. With the design allowing for either rear-wheel or all-wheel drive, you can have the option to choose what best meets your needs.