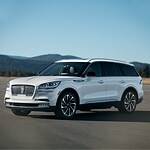 If you're a Fremont shopper who's looking for a luxury mid-size SUV, our team at Advantage Lincoln recommends the Lincoln Aviator. This SUV was crafted to provide you with superior power and efficiency with advanced performance features that enhance your ride on and off the road.
Lincoln Drive Modes has five settings for an optimal driving experience, and if you get the Aviator Grand Touring, you also get Preserve EV and Pure EV. There are two engines featured with the Aviator. The standard engine is a twin-turbocharged 3.0L V6 that cranks out 400 horsepower and 415 pound-feet of torque. With the Grand Touring, a battery-powered electric motor and twin-turbocharged engine work together to deliver 494 horsepower and 630 pound-feet of torque.
The Aviator offers all-wheel drive and rear-wheel drive. Both of these advanced systems significantly improve balance, and the all-wheel drive system gives you excellent traction and grip on harsh terrain.